10 Facts About Georgia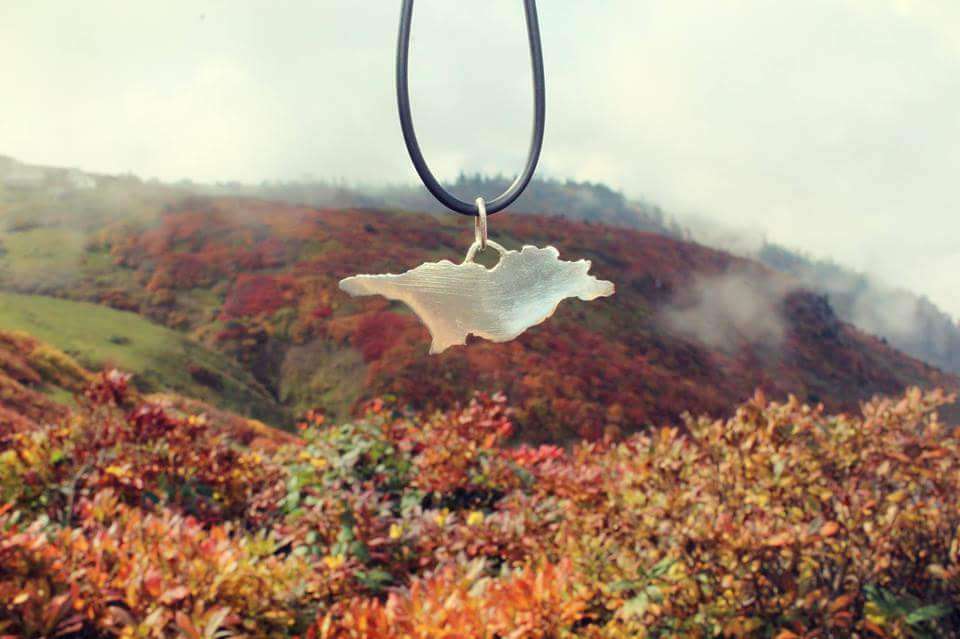 Georgia is a small country, but it's strategically located on the crossroads of Europe and Asia. this location contributed to building a unique cultural heritage. Historically Georgia has been the cultural, educational and transportation hub for the Caucasus region. With some of the most famous trade routes like the "Silk Road" passing on its soil.
Safe and Secure Travel – International Rankings
Today Georgia is one of the safest countries in Europe:
– According to the "World Economic Forum Competitiveness Index 2014-2015" Georgia Ranked 23rd out of 144 countries with the last amount of irregular payments and bribes and 37th out of 148 countries in reliability of police service.
– Georgia was also ranked 8th in "Top 10 Safest Countries In The World"
There are 10 facts about Georgia which make Georgia unique:
Cradle of Wine
Unparalleled Culture
Delicious Cousin
Unique Alphabet
UNESCO Heritage Sites
Europe's Highest Settlement
First European Civilization
Flora & Fauna
Mountains and Trekking
Sea and Winter Resorts
Cradle of wine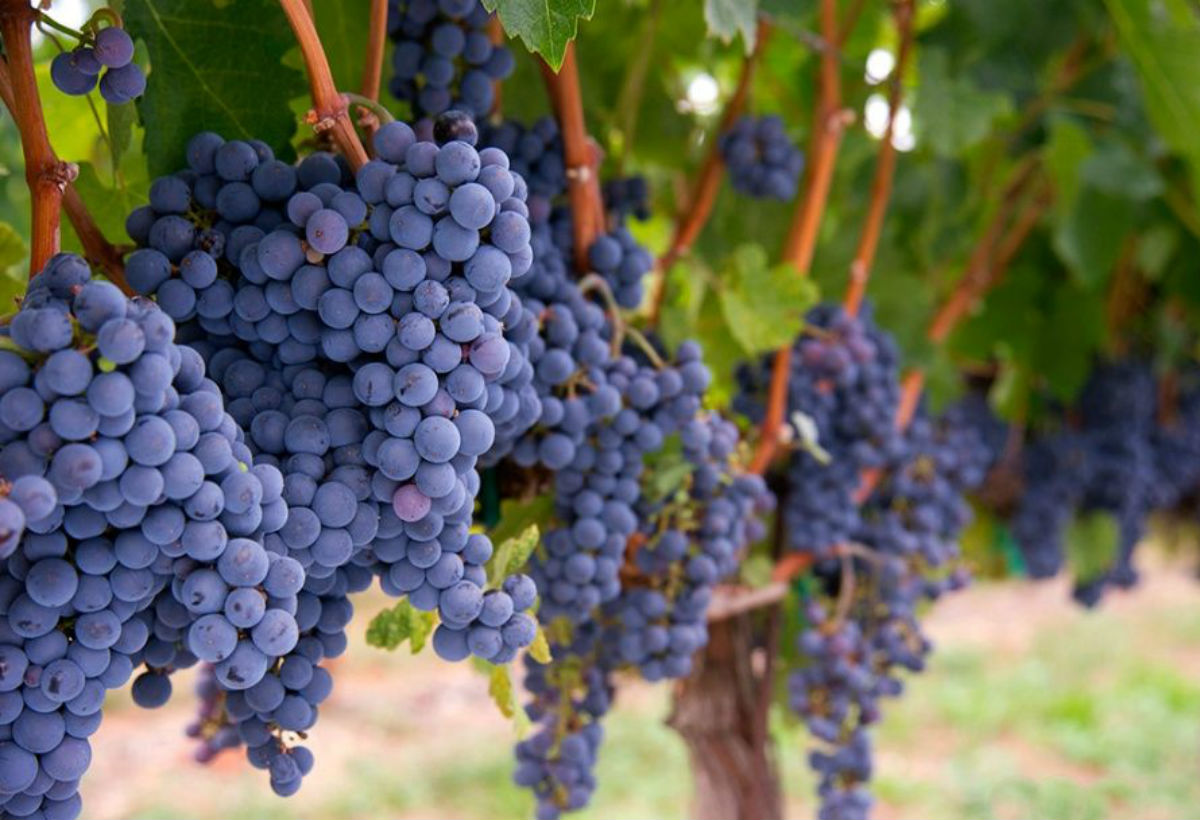 Georgia is considered to be the birthplace of wine. Wine has been produced in the country for ever 8,000 years and this is what the BBC called the World's Longest -Running Unbroken Wine Tradition. Furthermore, the Georgian way of wine making – in clay pots called "Qvevri" – belongs to UNESCO Intangible Heritage.
Unparalleled Culture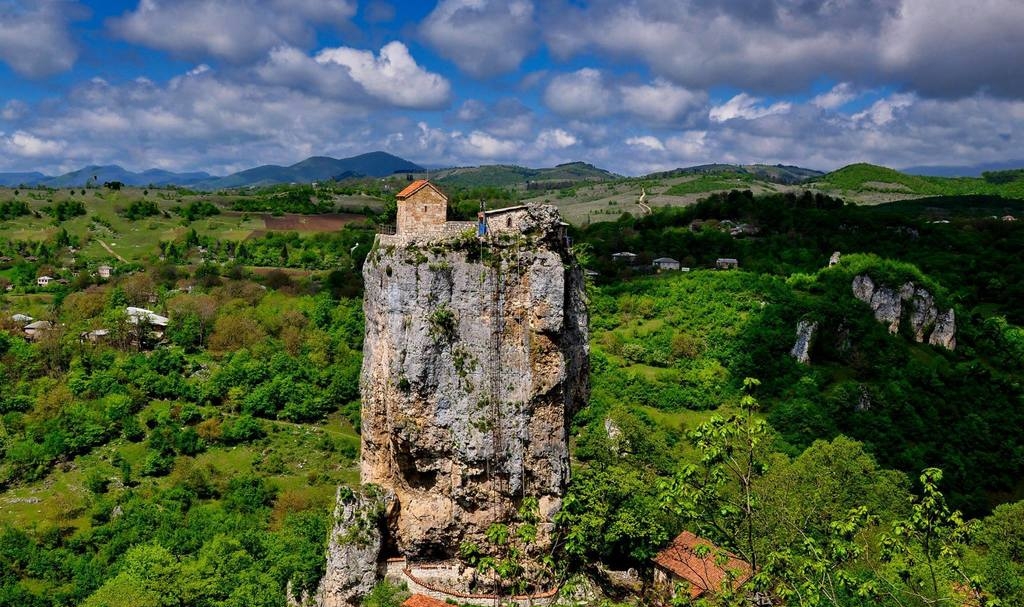 Georgia has unique cultural heritage, which is unparalleled in the world. Remains of the "First European Civilization" were discovered in Georgia dating back 1.8 million years. UNESCO acknowledged Georgian polyphonic music as "a masterpiece of the world's cultural heritage"
Delicious Cousin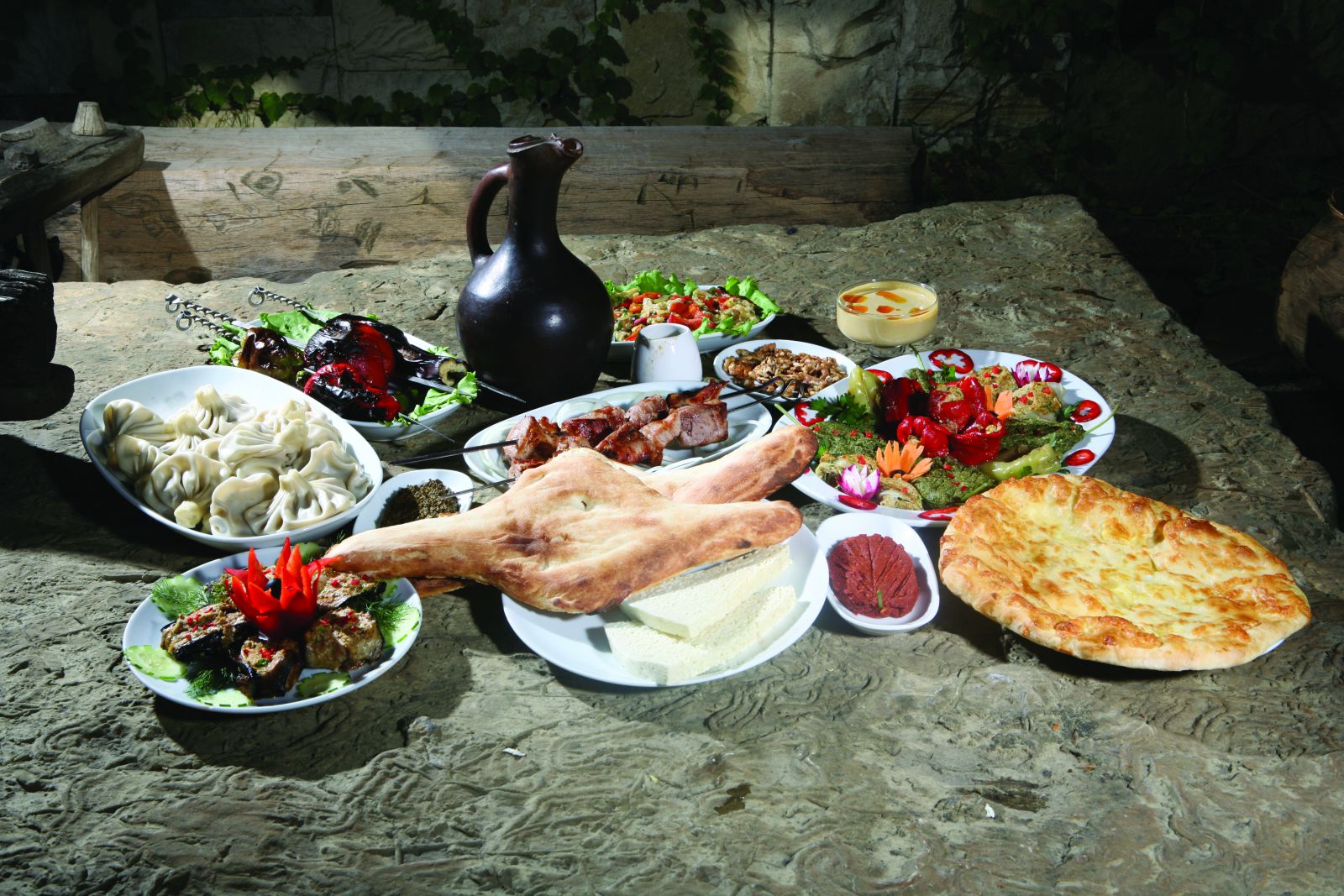 It's difficult to enjoy quality wine without delicious cousin, and Georgia prevails in this regard as well. The country's cuisine offers a variety of dishes, with numerous tasty herbs and spices. Georgian food and drinks were ranked 4th in Europe, right behind Italy, France and Spain.
Unique Alphabet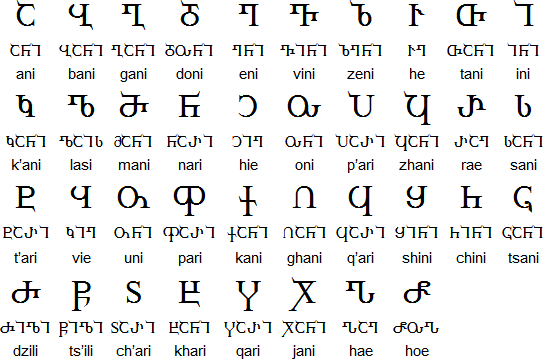 The Georgian Alphabet is among 14 existing alphabets known to man-kind. The oldest known inscriptions date back to the 5th century.
UNESCO Heritage Sites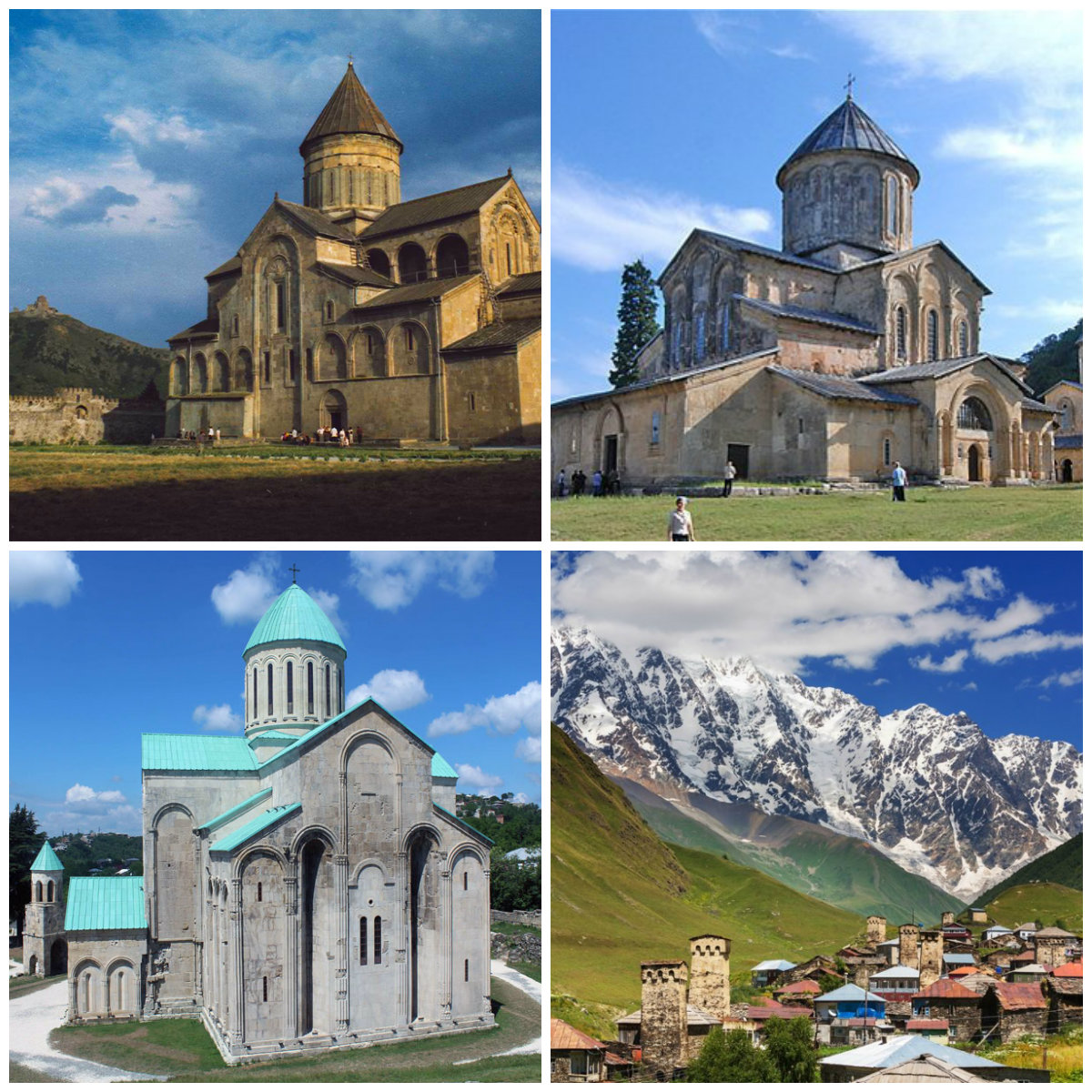 The country currently has 3 UNESCO Heritage Sites:
Gelati Monastery and Bagrati Cathedral – Gelati monastery dates back to the 12th century and is a great example of medieval architecture in Georgia. Bagrati Cathedral is an 11th century Cathedral in the city of Kutaisi. A masterpiece of the medieval Georgian architecture.
Historic Monuments of Mtskheta – the Jvari Monastery dates back to the 6th century and the Svetitskhoveli Cathedral is one of the most majestic sites in Georgia.
Ushguli – One of the highest populated areas in Europe is located at the elevation of 2000-2200 meters above sea level. The area is renowned for its unique tower-houses and unparalleled natural beauty.
Europe's highest settlements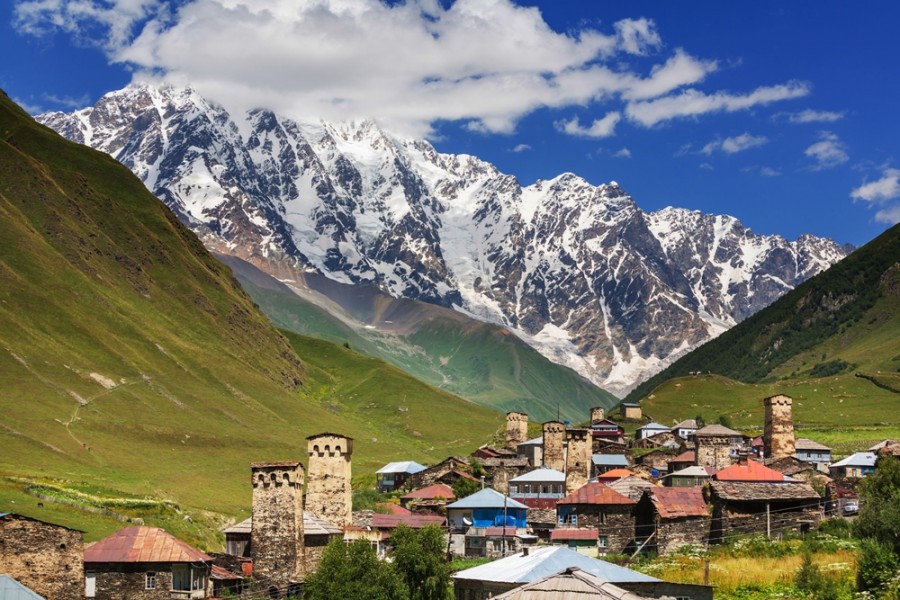 Ushguli is a community of four villages located at the head of the Enguri gorge in Svaneti, Georgia. Recognized as the Upper Svaneti UNESCO World Heritage Site, Ushguli is one of the highest continuously inhabited settlements in Europe.
First European Civilization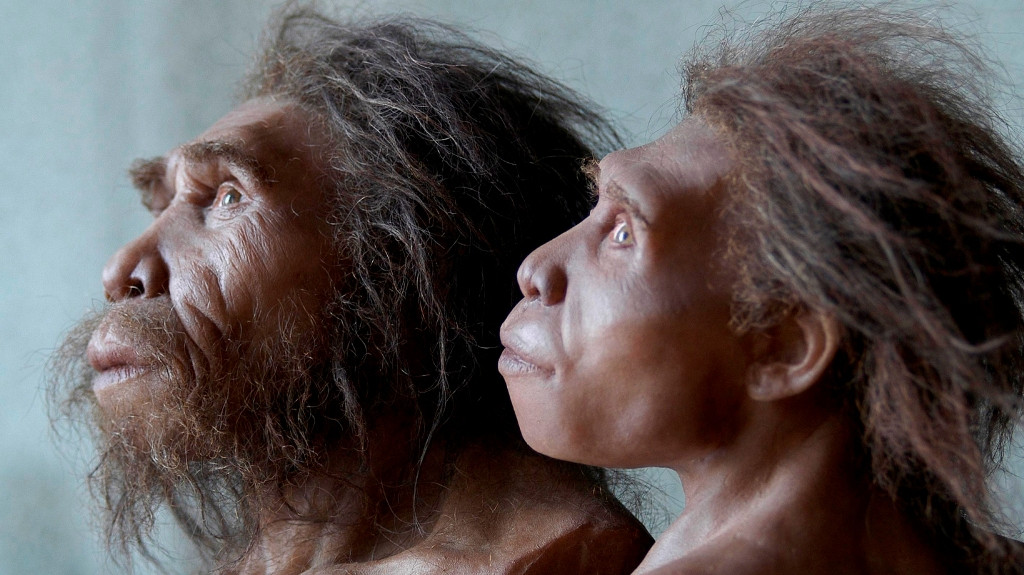 Ancient Georgia surpassed ancient Egypt and came in the second place after ancient Greece. Georgia also outstripped China that was ranked number four and ancient Rome that came in the fifth place. It is believed that they were the first Europeans, and that Georgia is a country where they have spread to other parts of Europe.
Flora & Fauna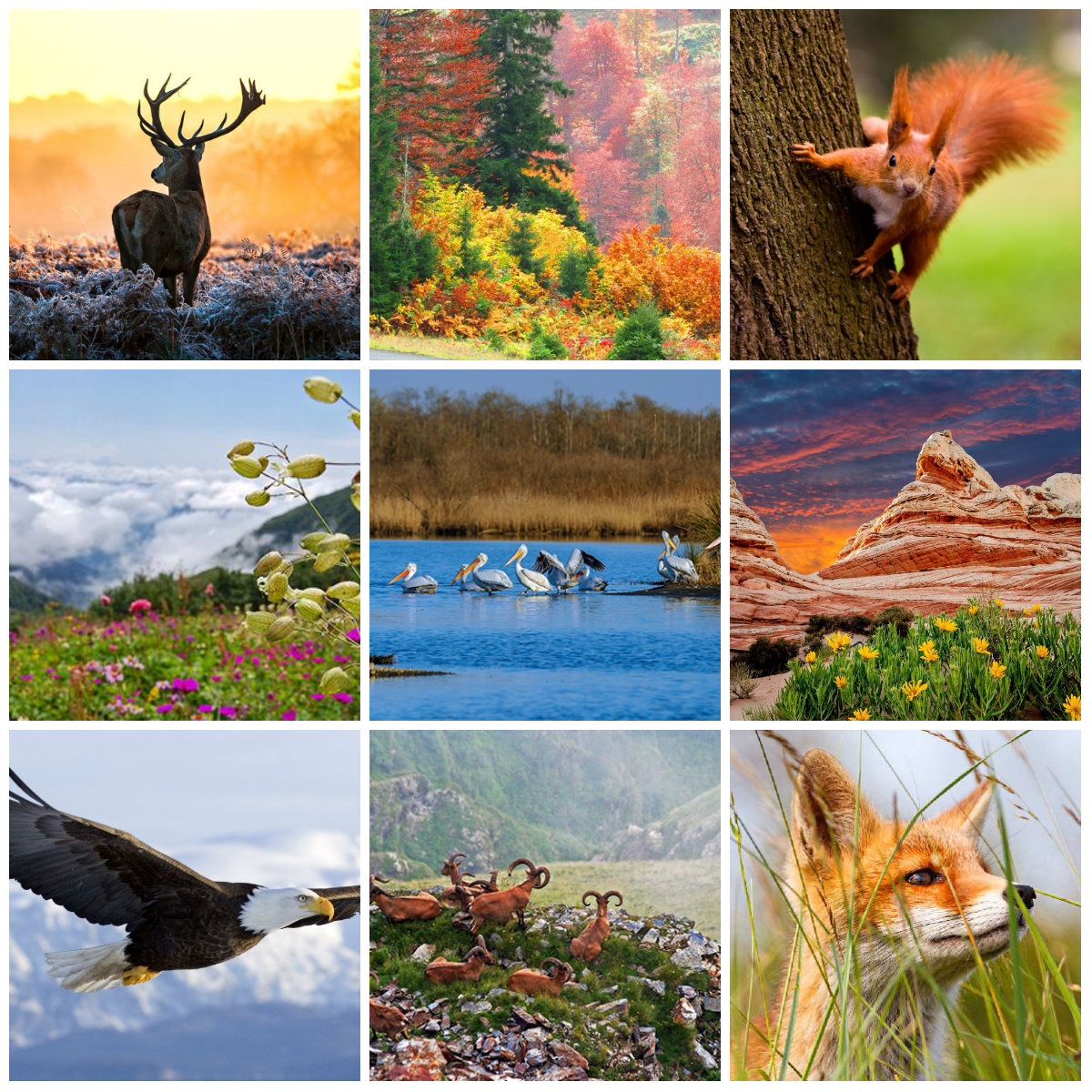 Georgia has some 250 species of trees, 90% of which are of commercial importance. The state lists 58 protected plants. Prominent among Georgia fauna is the white-tailed (Virginia) deer, found in some 50 counties. No fewer than 160 birds species breed in Georgia. There are 79 species of reptile.
Mountains and Trekking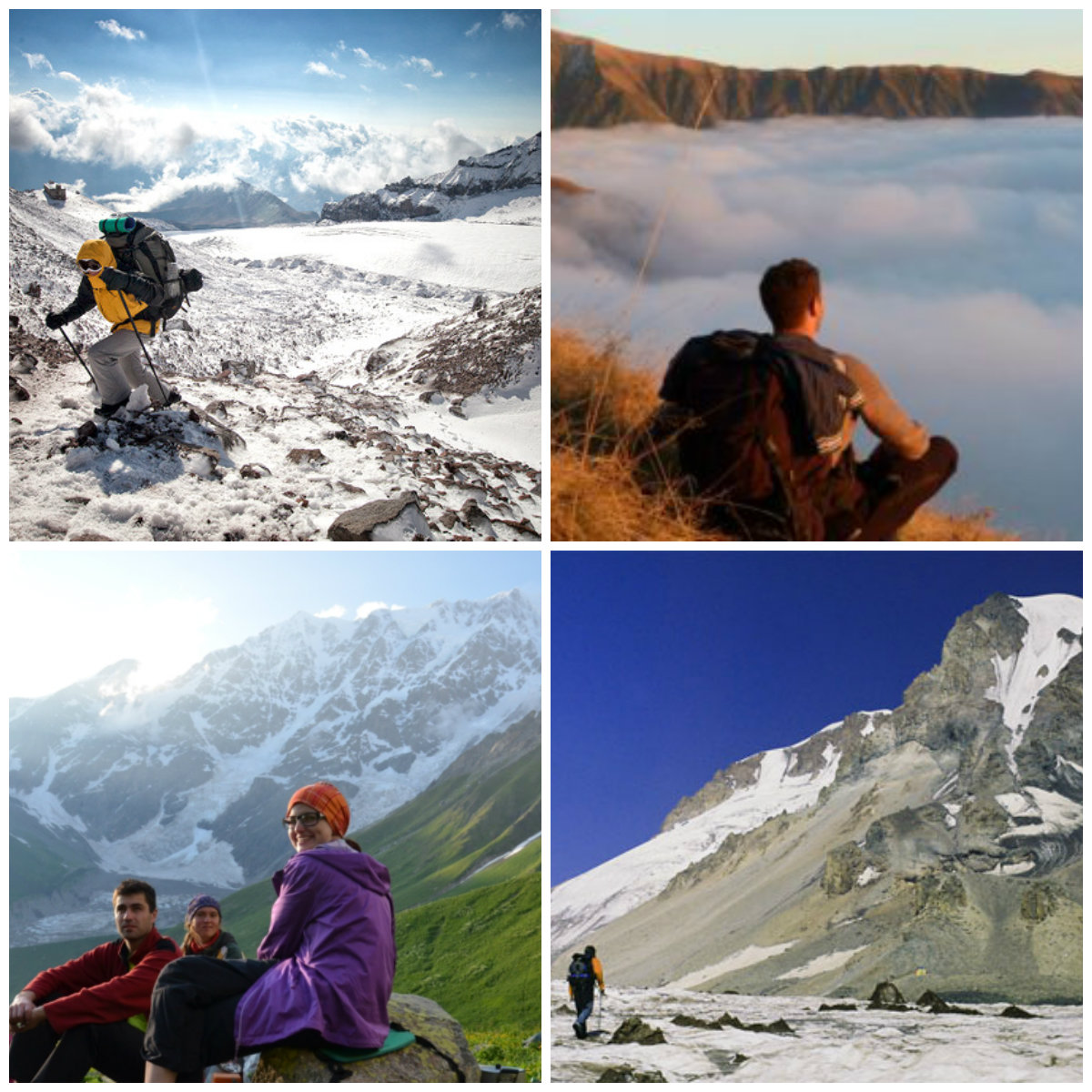 There are nine great treks in Georgia for the every type of hiker:
1.From Mestia to Ushguli
Trek connects Mestia, center of Svaneti region with the remote mountain village of Ushguli. This is the most popular trek in Georgia and for a very good reason – it offers great natural and historical sights, is accessible and not that long. Another advantage is the possibility to sleep every night in old, rustic villages, so unlike other multi-day hikes, for this one, you don´t need a tent.
In case that four days is not enough for you, you can easily extend this hike into an adventure almost 2 weeks long and explore less touristy parts of Svaneti.
Recommended for: Hikers who are looking for best possible scenery, contact with locals, comfort and don't mind meeting other tourists.
Distance: 58 km
Duration: 4 days
My advice: For even better views, on the first day take an alternative higher route crossing Zuruldi massif with the sleepover in Tsvirmi (instead of sleeping in Zhabeshi village).
2.From Omalo to Shatili
This trek connects villages of Omalo and Shatili, historical centers of mountain regions Tusheti and Khevsureti. It's intriguing not only by natural sights but also by several middle age villages, dominated by stone towers such as Omalo, Shatili, Dartlo and others.
The first two days are spent in inhabited valley, then comes the section in the wilderness where you will meet only occasional shepherds, trekkers or border guards. The highlight of the trek is a crossing of the 3413m high Atsunta pass.
Recommended for: Those who want to experience the culture of mountain people, as well as some camping.
Distance: 70 km
Duration: 5 days
My advice: Instead of spending the first day hiking on the dirt road, consider higher, more scenic trail traversing Pirikita range. You will not be able to visit medieval Dartlo village but views are much better here. You will then connect "classic" trail in the Parsma village.
3.From Svaneti to Racha
This beautiful, but very demanding trek takes you to some of the most remote parts of Caucasus. It follows the old road, which once connected Zeskho village in Svaneti with Ghebi in Racha, but fell into disrepair a long time ago. Nowadays almost nothing remains of it, as it has been destroyed by landslides and is now almost totally overgrown.
The route is very difficult, it crosses two steep mountain passes and a the wild valley of Tskhenistskali river. Not for everybody!
Recommended for: Adventurers who primarily don't seek cultural or natural sights, but go after a sense of achievement, want to overcome obstacles and don't mind wading through fields of 2-meter tall hogweeds and stinging nettles.
Distance: 39 km
Duration: 3-4 days
4.Hike through Chaukhi pass
The popular trail connecting Juta village in Kazbegi region with the Khevsureti. Very interesting due to a proximity of the imposing Chaukhi massif with its seven sharp peaks and a necessity to scale 3338 meters high Chaukhi pass. At the other side of the pass, you will find Abudelauri lakes – three beautiful alpine lakes with different colors (green, blue and white).
If you have more time, you can turn north and visit communities of Arkhoti. Especially upper part of this remote valley is worth a visit – you can expect to find there nice gorges, waterfalls, and the complete solitude. The next day you can cross Arkhoti pass and return back to Juta.
Recommended for: Hikers who visited Kazbegi, saw the most iconic sight of Georgia and are looking for other great sceneries in its proximity.
Distance: 21 km (one-way) or 52 km (with return through Arkhoti)
Duration: 2 days (one-way) or 4 days (with return through Arkhoti)
5.Trekking on Keli plateau
This trek, starting in picturesque Truso valley, explores the Keli volcanic plateau – a barren, rocky piece of land lying west of Georgian Military Highway. Only a very few people ever come hiking here as this area is in the close proximity of the territory of South Ossetia and a permit from Georgian Ministry of Internal Affairs is needed. The highlight of the trip is a visit to the glacial Kelitsadi lake.
If you want to spend more time in the area, you can explore also gorges of Mna and Suatisi north of Truso valley – they offer interesting rock formations, waterfalls and the unusual perspective of the Kazbegi massif.
Recommended for: Trekkers familiar with more touristy areas of Georgia, looking for something new and impressive.
Distance: 37 km
Duration: 3 days
6.Trek to Black Rock Lake
The Greater Caucasus is a home to numerous animal species, yes sometimes its valleys feel a bit empty, devoid of life. It is caused by an age-old hunting instinct of local people (or, to put it more bluntly, poaching).
If the wildlife is what you are looking for, you should head for Lagodekhi park, the oldest natural reserve in Georgia. This Park offers several hiking trails, the most interesting of which being the trek to Black Rock lake. You will cross ancient, preserved forest and be able to observe local fauna such as chamois, deer, and mountain goats. When you climb above the treeline, some beautiful views of the mountains will open up. Trek ends near Black rocks lake, lying at the elevation of 2800 meters. Also, in 2016, the another trail was opened to the lake so now you don't have to return the same way you arrived.
Recommended for: Hikers looking not only for natural sights but also for wildlife.
Distance: 45 km
Duration: 3 days
7.From Tusheti to Kevsureti through Borbalo pass
Alternative, the longer route connecting Tusheti and Khevsureti. Also, one of the very few trails which directly traverses the main ridge of Greater Caucasus. The first section of the trek follows the valley of Tushetis Alazani, but once you climb to the Borbalo pass, you will be able to spend almost two days at the top of the ridge.
Trail linked here ends at the Datvisjvari pass, but it can be further prolonged – with some effort, it´s possible to traverse the main ridge for the another three days, all the way to Roshkasghele pass. Another option is to descend through the valley of Chanchkistskali river to Mutso and join the classic trail between Omalo and Shatili.
Recommended for: Hikers looking for long, remote, panoramic treks.
Distance: 77 km
Duration: 5 days
8.Trek to Tobavarchkhili Lake
Tobavarchkhili (Silver) lake lies at the heart of Egrisi mountains, which separates the Svaneti region from lowlands. To reach it, you have to walk for 3 days, then you can continue north to Svaneti.
There are no cultural sights such as villages or towers on the way, but it's more than compensated by a very diverse environment – glacial lakes, rocky gorges, waterfalls, shepherds huts and much more.
What's even better, you will meet only a few hikers, mostly Georgians. Foreign tourists with limited time and even more limited ability to remember crazy Georgian words such as "Tobavarchkhili" usually focus on better-known areas and keep this gem of Caucasus mostly unspoiled.
Recommended for: Nature lovers, who want to avoid crowds.
Distance: 70 km
Duration: 5 days
9.St. Andrew's trail in Borjomi – Kharagauli park
Borjomi-Kharagauli National park is located in the mountains of Lesser Caucasus. Being one of the largest national parks in Georga, it's famous for its pristine forests, wildlife and developed infrastructure.
Park has 9 marked trails. Probably the best one of them is known as St.Andrews trail – it offers great views as well as the possibility to climb Sametskhvario, the highest mountain in the park. Also, tents are not necessary as it's possible to sleep in tourist shelters for a small cost (better book them at the rangers stations)
Recommended for: People looking for "the Swiss experience" (pristine forests and developed trails at the same time).
Distance: 54 km
Duration: 4 days
Sea and Winter resorts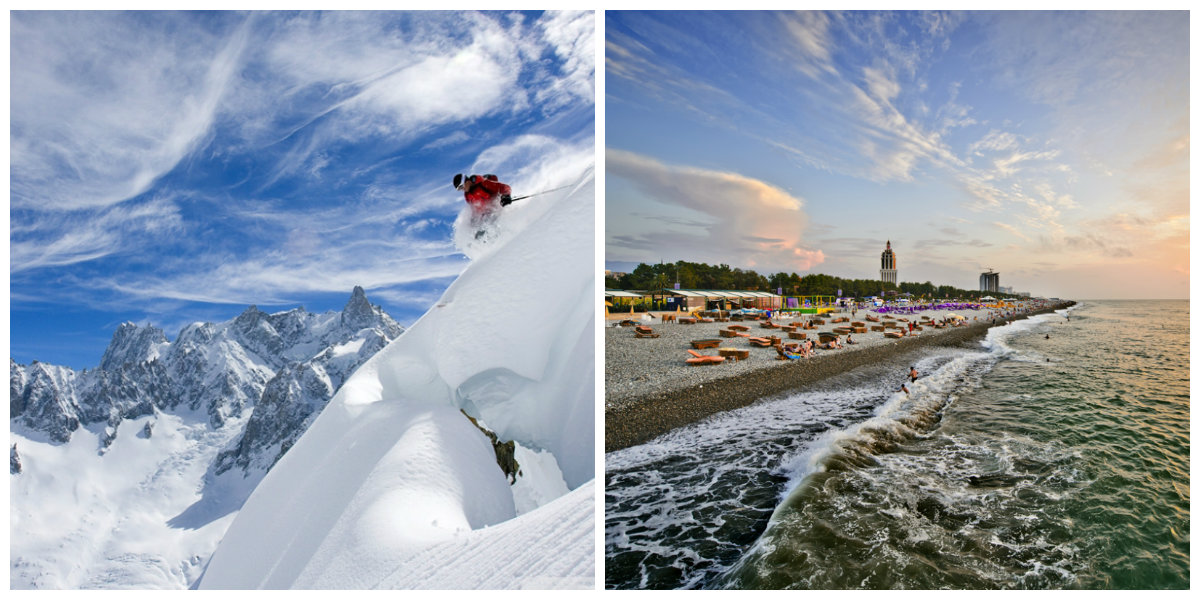 Let's describe sea resorts:
Gonio
Gonio is one of the most popular resorts at Black Sea coast. The settlement is located on the left bank of Chorokhi River. Besides clean water and colorful houses, the place is notable for its ancient Gonio Fortress, a Roman fortification that was previously called Apsaros or Apsaruntos .
Kvariati
Kvariati is another popular seaside resort at Black Sea coast. Kvariati offers a wonderful mix of sea and mountains to its visitors. While swimming in crystal clear water one can enjoy an amazing view of emerald mountains. During the summer season, many bungalows, café-bars and clubs function, allowing visitors to enjoy nightlife as well.
Anaklia
Anaklia, located in Zugdidi municipality of western Georgia is a relatively recently founded Black Sea resort, with its beach covered in yellow sand. Several high class hotels have already been built there, but one can easily find private guest houses as well. Anaklia has already hosted several summer events, and this year is no exception: GEM Fest (Georgian Electronic Music Festival) will take place there, starting on July 31 and ending on August 7.
Grigoleti
Grigoleti village in Georgia's Guria region is another noteworthy Black Sea resort. The area is covered with perennial pines, while the beach represents magnetic sand that is notable for its spa features and is good for strengthening bones and joints. If you want to spend your vacation with your family in a calm and healthy environment, then this resort is for you.
Mtsvane Kontskhi
Mtsvane Kontskhi (Green Cape) is another extremely beautiful and famous resort in western Georgia. The resort is located nine kilometers away from Batumi, the capital of Adjara region . Its green slopes are home to an amazing botanical garden that annually hosts thousands of tourists. Green Cape is ideal not only for sunbathing and swimming, but for diving as well. The resort offers various hotels, comfortable guest houses, restaurants with delicious food and café-bars.
Now describe winter resorts:
Gudauri – is located just 90 minutes drive from the capital. is popular for its quality infrastructure and variety of ski runs.
Mestia – the brand new ski destination in Georgia is one of the most challenging and beautiful in Europe. Here the ski-lifts begin at 1,800 meters and the destination is easily accessible by a magnificent 30 minute flight through the mountains.
Bakuriani – originally developed as an Olympic training facility its cross-country trails attract expert, as well as beginner level skiers. Today Bakuriani is very popular among family vacationers.
It's important to note that Gudauri and Bakuriani resorts were recently equipped with artificial snow making machines, which guarantee a perfect slope every time.