About Georgia
Georgia situated at the strategically important crossroads where Europe meets Asia, Georgia has a unique and ancient cultural heritage, and is famed for its traditions of hospitality and cuisine. Georgia (Georgian: საქართველო, Sakartvelo) is a country in Eastern Europe. Set on the coast of the Black Sea, it lies to the south of Russia, and to the north of Turkey, Armenia, and Azerbaijan. Georgia forms part of Europe's easternmost flank, straddling the continent's border with Asia
Georgia is approximately the size of Ireland and lies along the same latitudes as Bulgaria, Southern France, and New York. For a country of its modest proportions, it presents a remarkable mix of landscapes and climates, ranging from high mountain peaks to wine-growing valleys and lush Black Sea resorts. Georgia is a developing but rapidly improving country with very low levels of both crime and corruption. Starting in the mid-2000s, Georgia's tourist infrastructure has expanded substantially, and the number of tourists visiting the Black Sea republic has increased several fold.
Area: 69 700 sq.km
Land border: 1655 km
Black Sea coast line: 315 km
Climate: Continental – Subtropical
Population: 4.5 million people.
Ethnic groups: Georgian 83.8%; Armenian 5.7%; Azeri 6.5%; Russian 1.5%; others – 2,5%.
Language: Georgian – official
Religious: the main religion is Orthodox Christianity. Also there are Catholics, Islam, Gregorian and Judies.
Time zone: GTM + 4
Capital City: Tbilisi. Population – 1.3 million people.
Country code: GEO.
Internet code: ge
Currency: Georgian Lari (GEL)
Telephone code of country: +995
Telephone code of Tbilisi: 32
President: Giorgi Margvelashvili
Political structure: Democratic republic
The Highest Mountain: Mt. Shkhara – 5068 m
The Longest River: Mtkvari (Kura) 1364 km (847.5 miles)
The Largest lake: Paravani: 37.5 sq.km (14.4 sq ml)
The highest pass: Nakara (3203 m.)
Water resources: 26 060 rivers, waterfalls, and springs; 860 lakes; 1 unnatural Tbilisi Sea
Mineral waters: Borjomi, Likani, Nabeglavi, Sairme and others.
Annual temperature degree for Caucasus countries (C).
Month Georgia Azerbaijan Armenia
January 4 – 7 5 – 8 3 – 5
February 0 – 5 2 – 5 0 – 3
March 8 – 12 8 – 10 5 – 7
April 13 – 18 14 – 18 10 – 15
May 15 – 20 16 – 24 15 – 20
June 20 – 25 25 – 30 20 – 25
July 25 – 35 30 – 40 25 – 35
August 25 – 30 30 – 40 25 – 35
September 20 – 30 25 – 30 20 – 25
October 15 – 20 15 – 25 10 – 20
November 8 – 12 7 – 12 7 – 10
December 6 – 8 7 – 10 5 – 8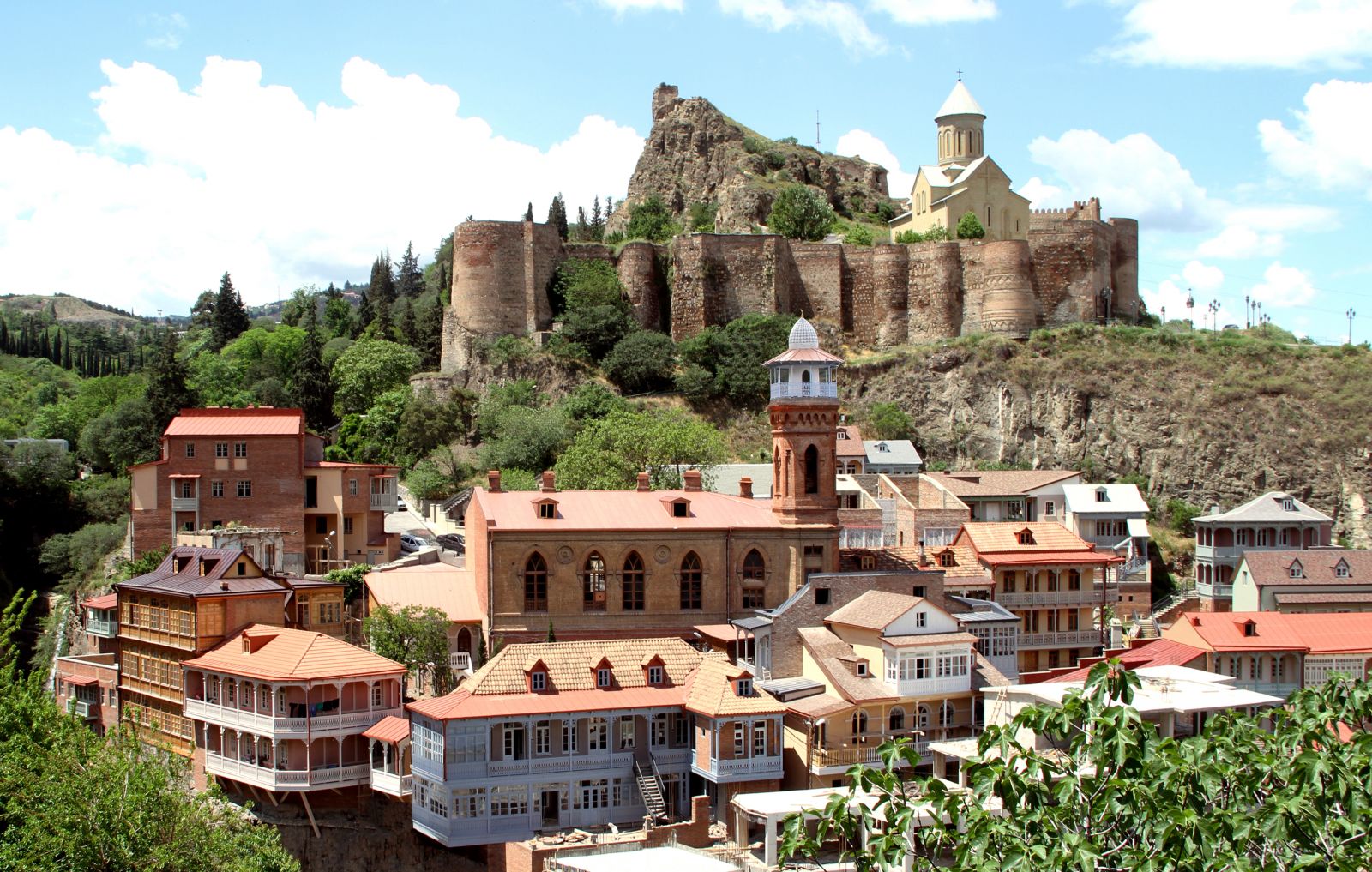 The capital of Georgia Tbilisi stands on the banks of the River Mtkvari, in a valley surrounded by hills. Tbilisi is a Major economic, transportation and cultural center – hub of the Southern Caucasus.
Tbilisi consists of 5 administrative districts: Gldani-Nadzaladevi, Didube-Chughureti, Vake-Saburtalo, Mtatsminda-Krtsanisi, and Isani-Samgori. According to the 2003 census 1,082,000 people (about one fourth of the country's population) permanently live in Tbilisi.
Mythology places the foundation of Tbilisi at the feet of 'King Gorgasali's pheasant'. Back in the V century the king, when out hawking, caught a pheasant on the wing that fell directly into one of the hot springs. Apparently by the time of retrieval the bird had been cooked and was ready to serve. Thus the king ordered the city to be built around the spring – the word Tbilisi derives from the Georgian 'tbili' which means warm.
Tbilisi is one of Eastern Europe's undiscovered gems. At once modern and ancient, European and Asian, it is the sort of city where many visitors want to settle down permanently. Over the centuries Tbilisi has become synonymous with gracious living and warm welcomes. The name means 'warm spring', and comes from the natural hot mineral water springs that dot the centre of the city. The superb sulfur baths in the Old Town attracted travelers from Marco Polo to Alexander Dumas. Many great artists like Pushkin, Lermontov, and the composer Tchaikovsky have all sat and composed work under one of the baths' brick domes.
Tbilisi is known as a multicultural place, and it is one of the few places in the world where you can find a church, a synagogue and a mosque next door to each other. Today the city remains very cosmopolitan, with populations of Jews, Armenians, Azeri, Kurds and Russians all living side by side.
The city boasts dozens of theatres, a world-class opera and ballet house, and a wealth of museums. In the 19th century Tiflis (as Tbilisi was then called) was known as "The Paris of the South", because of its beautiful architecture and sophisticated, avant-garde scene. After a break of almost 100 years, Tbilisi is finally living up to its potential once more.
Old Tbilisi, the ancient centre of the city, which boasts medieval churches and fortresses, 19th century mansions and fabulous art nouveau palaces, is being lovingly restored to its former glory. Overhanging balconies wreathed in grapevines, winding cobbled streets and spectacular views mean there is always something new to discover. With a climate similar to northern Italy, the café scene in Tbilisi is renowned.
Tbilisi is situated in an amazing place, where the massive chains of the Greater and Lesser Caucasus Mountains almost touch, along the fast flowing river Mtkvari. Just ten minutes outside the town centre takes you into alpine meadows and virgin forests.
50 THINGS TO DO IN TBILISI
1. Learn about Pirosmani
The work of famous painter Pirosmani cannot be missed when you visit Georgia! Most of it can be found in the art museum in Tbilisi but when you really want to get an idea of what Pirosmani's life must've been like, visit the smallest museum ever, his house. Yes, Pirosmani lived in Harry Potter style: under the stairs of his aunt.
2. Explore the secret Chronicle of Georgia
A place I randomly found on Google maps and NOBODY seems to know about, not even taxi drivers. The chronicle of Georgia is basically a huge statue located on top of a hill on the outskirts of the city. A must do when you're into epic statues, breathtaking views and off the beaten path travel.
3. Cross the Bridge of peace
Tbilisi, nowadays, is full of modern architecture, one of the biggest examples is the bridge of peace. The glass bridge connects Old Tbilisi with Rike Park, across the Mtkvari river. Cross it to stay safe from Tbilisi's crazy traffic and to get some mind blowing photographs.
Fun fact: The bridge's nickname is 'Always Ultra' because it slightly resembles a lady's maxi pad.
4. Get something to eat at Erekle II street
Admittedly this street is one of Tbilisi's touristic hotspots, but that shouldn't stop you. Learn about wine at G. Vino, watch people from Kala pub or watch what you say at KGB.
5. Watch Tbilisi's traffic at Puris Moedani
Officially called 'Jerusalem square' but lovingly named Puris Moedani (the bread square) after the Puris Moedani restaurant. This square is great for watching traffic, as the stream of cars here never seems to stop. I've seen some pretty hilarious things, such as lada's carrying entire bathrooms and fighting cab drivers causing huge traffic jams.
6. Climb Narikala fortress
The Narikala fortress, located in old Tbilisi, is one of the best examples of the non-existing safe regulations in Georgia. Climbing the fortress is dangerous as there are no fences to keep you safe and nobody who keeps an eye on the stream of tourists. And I love it! Bring your best shoes, conquer your fear of heights and enjoy the amazing view from the top!
7. Get high at Mtatsminda Park
Another place with great views on Tbilisi. Mtatsminda park is a great way to spend your weekend, as many locals seem to think. Visit the old theme park – they have a dinosaur park! – and ride the ferris wheel to reach the highest point in Tbilisi. When you're done, grab a bite at Furnicular. They have awesome, fresh Khinkali!
8. Sameba Holy Trinity Cathedral
The biggest cathedral in Georgia, with a golden roof you can see from almost every part of Tbilisi. The Sameba Holy Trinity Cathedral is a new church complex – they're still building new churches and monasteries in Georgia – and from the inside you'll see they're not even finished. The huge Jesus fresco was amazing – which only has outlines now – so go and take a look yourself!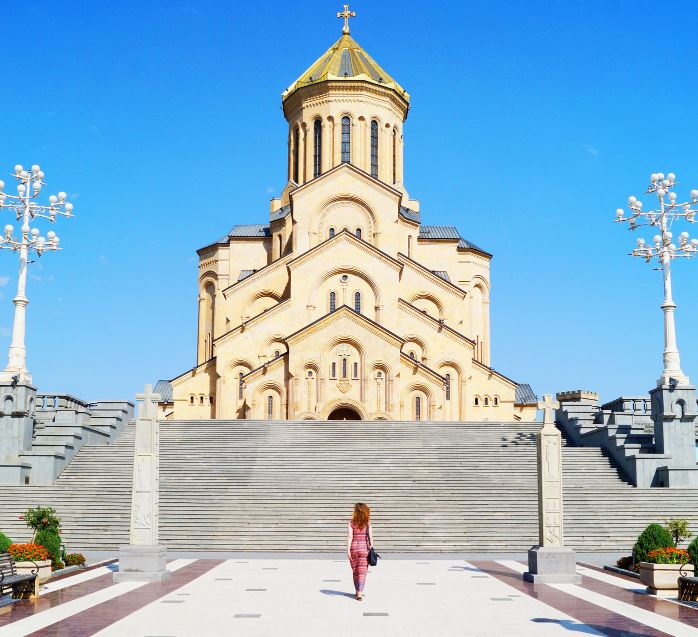 9. Take a relaxing stroll through Rike Park
Play live chess, cool down at the fountain or take the cable cart up to Narikala fortress. Rike Park, located in the new part of Tbilisi is a nice place to wander around in as it is quite different from the other parks in Tbilisi.
10. Become a proper wine taster
Georgia grows over 525 different varieties of grapes and everybody – even in a cramped city like Tbilisi – makes wine. Become friends with your neighbors to score some of the homemade goods or find a nice winery to taste and experience wine culture first hand. My favorite was 8000 vintages, located in Saburtalo, just outside of the center of Tbilisi.
11. Learn about Georgia in the National museum
National museums don't need much of an introduction, I'd advise you to visit one in every city you go to. Georgia has a rich history of tragedies and violent wars. To be able to understand some of it, this is the place to go!
12. Visit the oldest church of Tbilisi
Dating back from the 6th century, Anchiskhati Basilica is the oldest surviving church of Tbilisi. Hidden behind a gate and not as majestic as the Sameba Holy Trinity Cathedral, this treasure is easy to miss. The paintings inside date from the 19th century – aside from the altar piece which was painted in 1683.
13. Visit the gorgeous Georgian National Opera Theater
The neo-Moorish style building is amazing from the outside, but drop dead gorgeous when viewed from inside, where it's mostly built in European style. The building – formerly known as the Tiflis Imperial Theater (how Star Wars is that?) hosted big opera stars like Montserrat Cabbalé and José Carreras and is also home to the State Ballet of Georgia.
14. Wander the streets of Vera
The Vera neighborhood is known for its beautiful houses. While Old Tbilisi is known for the same, I'd advise you to wander through Vera when you get the chance because of the lack of tourists. Tbilisi isn't a very touristic city anyway, here you'll find locals and locals only!
15. Stroll down Rustaveli Avenue
Home to the Georgian National Opera Theater, the parliament building and impressive lanes, Rustaveli Avenue perfectly portrays the grandeur of Tbilisi. If everything else on this list fails you, you could also go shopping here.
16. Check out Stalin's secret printing house
While Gori is home to the Stalin museum, this place in Tbilisi might the worth the trouble too as it unveils a part of Stalin's secrets. An excellent place to get to know more about Georgia's Soviet history.
17. Eat delicious BBQ food
Mtvadi is just one of the excellent foods in Georgia that made me want to chain myself to the country and never leave! Perfectly tender BBQ pork, chicken and even lamb, served with a smile. I can't stop thinking about it!
18. Test your anxiety levels at Marionette theater
I admit that the dolls of the Gabriadze theater are creepy AF! They shouldn't keep you from visiting the shows at 12:00 and 19:00 though. When irrationally afraid of dolls like me, there's always the supercute Gabriadze café next door.
19. Enjoy views over the city at Metekhi
The platform of the Metheki church and the statue of king Vatkhtang Gorgasali beside it, give you a perfect view on Old Tbilisi on one side and Rike Park and what lies behind it on the other.
Fun fact: some people believe the statue of king Vatkhtang's right hand is waving to Armenia with all five fingers because of a soccer match between the two countries where Georgia won 5 to 0. Although it has been proven to be false, I kind of like this urban legend.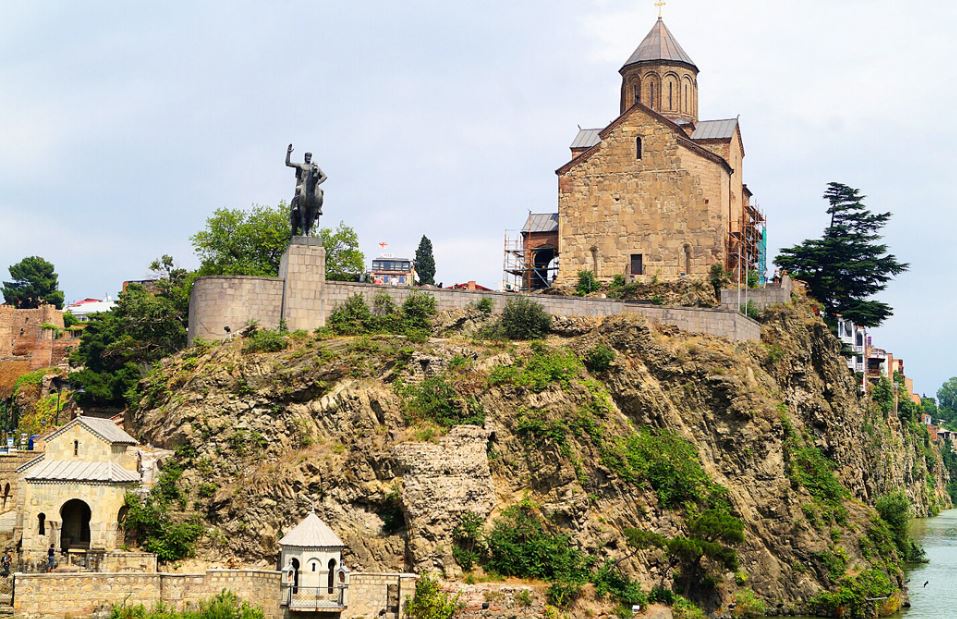 20. Get in touch with nature
The botanical garden of Tbilisi is one of the best places to get out of the busy city center. Not only is this park huge, even in summer I found it to be quite peaceful without too many tourists walking around. Climb all the way to the statue of Mother Georgia for breathtaking views over the park and Tbilisi.
21. Shop for memorabilia at the Dry bridge market
A colorful flea market selling old soviet junk to colorful paintings. Even if you don't feel like buying anything, the Dry Bridge Market should be part of your trip to Tbilisi because of the friendly people and colorful junk on their stalls.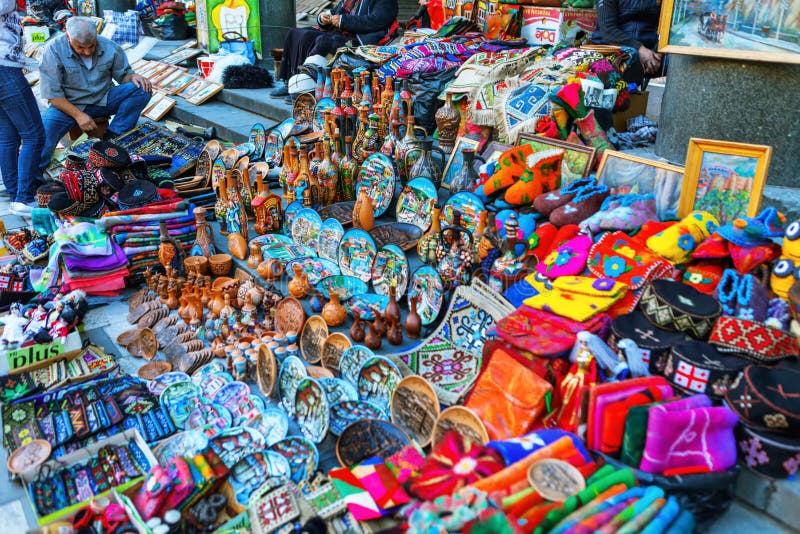 22. Get into the screamfest at the market
Another must do is the big market at the station square. Not only can you find the freshest produce for the best price, the screaming and yelling is something both overwhelming and hilarious. Great way to get that culture shock!
23. Have a swim in Tbilisi Sea
Tbilisi is located nowhere near the coast, how cool is it to get to swim anyway? Tbilisi Sea is basically just a huge reservoir locals use to swim in, relax on a boat or on the beach. When you're there anyway, check out the huge memorial (see #2) on top of the hill!
24. Stand next to the Mother of Georgia statue
Next to the Narikala fortress you'll find the Mother of Georgia statue, holding a sword to fight the enemy in one hand and grapes to greet the friends of Georgia in the other. Behind the statue is a little boulevard where you can take walk and admire the view over gorgeous Tbilisi. On the other side you see the botanical garden of Tbilisi.
25. Bridge of the Hundred Thousand Martyrs
Historically the bridge is a place of executions, the biggest one being the execution of the martyrs who didn't renounce their Christian faith. Legend says that sultan Jalal al-Din of Khwarazm made people step on the holy icons as a sign of renouncing their Christian faith and converting to Islam. Those who didn't were killed. That's how the bridge got its name.
26. Take a boat tour on the Mtkvari River
Touristy? Yes. Fun? I'd like to think so! Next to the bridge of Hundred Thousand Martyrs you'll find the River Boat Tours, taking you on a relaxing sightseeing tour from the river Mtkvari. A great way to see the city from a different angle while saving your precious feet!
27. Don't take photos of the Presidential palace
That's at least what the guards will tell you. The palace – that looks a little like the Reichstag in Berlin – stand on top of the hill above Rike Park and catches your eye being surrounded by the somewhat traditional buildings.
28. Marvel at the grandeur of Soviet metro stations
The Tbilisi metro is not just great for getting from one point of the other, most metro stations have artsy ceilings that are worth viewing. You might miss your connection, but that's okay!
29. Go on a street art hunt
Just like any great city, Tbilisi is home to some wonderful street artists and their murals. Wander through the city to find post-war art or just a colorful splash.
30. Smoke hookah
When strolling through beautiful Tbilisi I couldn't help but notice a whiff of sweet air here and there. Many bars and restaurants offer hookah, also known as shisha or water pipe. Huggo bar was my favorite for smoking hookah because of their friendly staff and hysterical variety of hookah choices.
31. Visit an art café
Tbilisi is home to many art café's and galleries, as well as hipster culture and street art. Wander around the old town, Vera or Vake to stumble upon the coolest places. My favorite one is 144 stairs art café (address: Salami street 14)
32. Relax at Turtle lake
Residents of Tbilisi love their nearby nature! Turtle lake is excellent for a day of doing nothing. You'll find families, people walking their dogs and random picnics on any sunny day.
33. Get clean at the Sulphur baths
The Sulphur baths in Abanotubani are one of the highlights of Tbilisi's old town. Not just the neighborhood with its beautiful blue mosque or the traditional Georgian houses make it worth visiting this area, taking a hot bath will too!
34. Meet other travelers at Leselidze / Kote Apkhazi
I like to see it as 'the strip' of Tbilisi, Leselidze (as it is still called by locals) is the place to be for nightlife, tourist shops and hostels. Need something in the middle of the night? Leselidze is there for you! When you know me, you probably know I avoided it as the plague!
35. Admire the Juma mosque
Located in Abanotubani, right between the Narikala fortress and the Mtkvari river, you'll find the Juma mosque. Here muslims from the area come to pray or hang around the Sulphur baths. Abanotubani is a friendly neighborhood which shows the cultural diversity in Tbilisi really well.
36. Eat Khinkali at Khinklis Sakhli
Only the best khinkali is town! Khinkali is a large dumpling filled with meat, cheese or vegetables and broth, which you should eat with your hands. Georgians argue over the best khinkali, as preferences are various. I loved Khinklis Sakhli (although their staff not so much) for their fresh soupy dumplings.
37. Freedom Square
The partly golden statue on Freedom square can be seen from basically everywhere in the city. The square – which was renamed many times – has been home to some famous demonstrations, such as the demonstrations for independence of the Soviet Union and the Rose Revolution. Fact: George W. Bush escaped death here when somebody threw a grenade during the celebration of the 60th anniversary marking the end of WWII.
38. Meet Georgian hipsters at Moulin Electrique
Located in a hidden alley, next to a synagogue you'll have your chance to meet the hipsters of Tbilisi. Moulin Electrique is a great place for having drinks and conversation at the same time in the very center of Tbilisi.
39. Chill with locals in the 9th of April Park
The locals of Tbilisi love to hang around in parks. Parents let their kids play in the colorful fountain of the park, while other marvel at various statue of play a game of backgammon. Wander around to discover local life, for free!
40. Enjoy a Georgian Snickers
Churchkhela – or Georgian snickers – is something you have to try while in Georgia! A typical churchkhela is made from walnuts (although sometimes hazelnuts are used) covered in reduced grape juice, and looks like some kind of sausage. Sounds icky but I promise you it'll be worth a try. Eat them as a snack, for dessert or combine them with a glass of Georgian wine.
41. Cuddle with dogs or cats
Tbilisi is home to many street cats and dogs, most of them friendly enough to let you be. Cats are usually all over you as soon as you decide to eat your meal outside, while dogs – especially in summer – just try to find a cool spot to sleep. Most of Tbilisi's street dogs are friendly to humans, but you should still use common sense when approaching a wild animal. Tags on their ears mean that they've had vaccinations.
42. Spend the day at Lake Lisi
Many locals love to spend their summer days at Lake Lisi, another green spot in Tbilisi. Great for getting a fresh breath of air, away from the traffic jam that is the city.
43. Shop at the Meidani Bazar
The Meidani Bazar is just one of the spots for buying souvernirs. Choose local wine, honey or art or use the tunnel as a way to get from one part of the street to another while being safely underground.
44. Clear your mind at Sioni Church
It's difficult not to mention every church in Tbilisi, as they are all unique and worth a visit. However, the Sioni church is one you absolutely can't miss. Marvel at the breathtaking frescoes, light a candle or wander around the church to clear your mind. Do make sure you cover yourself up before entering!
45. Try Chacha
Georgians translate is as grappa or brandy and in my opinion this local hooch should come with a warning! Chacha is a strong spirit made of grape residue. Because it is often homemade, alcohol levels range from 40 to 65%.
46. Walk up or down the Betlemi Rise
Between the statue of mother Georgia and the honking cars of old Tbilisi, there's a highlight that can't be missed. Walk down to see 3 churches, a small vineyard and one of the best views over the city. A beautiful place for photo ops and history lessons.
47. Go for Karaoke!
Spend you evening with friends at Famous restaurant for delicious dinner and drinks with karaoke as dessert! During one of my dinners at Famous I was treated to a full blown karaoke party and I loved it!
48. Remember at Heroes square
The heroes memorial at Heroes square in Tbilisi honors all those who died protecting the territorial integrity of Georgia. A beautiful place to take a break and learn about Tbilisi's history.
49. Sip your cocktail with incredible view over the city
Next to the cable cart at Narikala fortress, you'll find the cutest little platform overlooking Old Tbilisi. Drink a cocktail at sunset or BBQ your ass off (the kebab is great) while having one of the best views ever! I loved that, although this café has one of the best locations in the city, prices were normal and the staff was very friendly!
50. Be a bloody tourist
Skip all 49 items above and discover Tbilisi at your own pace. Get blown away by the different kinds of architecture, wander through the tiniest streets, explore glorious nature within minutes reach and best of all: enjoy the friendliness that is all around Georgia! Be a bloody tourist and try to leave as many footsteps as you can in this incredible city!